Swap your home office
for an ocean view
with the ultimate workcation
at Royalton Luxury Resorts!
Promotion prices start at $900 USD per person for a 14-night stay
** Canadians see below for 3 special Sunwing departure packages including air, transfers and taxes – all in CDN$.
You can work from paradise with Royalton's Office Upgrade promotion. Featuring 24-hour access to the Diamond Club™ Lounge, complimentary Business Centre access plus resort-wide Wi-Fi as a part of Royalton's All-In Connectivity™ promise.
Royalton's team is dedicated to keeping guests fueled during the workday by providing an endless coffee bar, breakfast pastries and delectable snacks. At the end of each workday, Royalton Fit instructors invite guests to enjoy a sunset yoga session in order to decompress and enjoy their evening in a truly tropical oasis.
Bringing the whole family – play and remote study time included!
With its supervised kids clubs, your little ones will be entertained all day at Royalton resorts, with engaging and educational activities, from learning a new language to time allocated for remote-study so they can keep up with the school work!
Royalton Luxury Resorts Office Upgrade Package Includes:
Luxurious accommodations with modern workstations
All-inclusive food and beverage
Room service
Complete gourmet coffee bar
Fresh start breakfast bar and daily snacks
Daily sunset yoga sessions to decompress
24/7 complimentary Diamond Club Lounge access
Business Centre with complimentary printer access
Resort-wide Wi-Fi
Quiet locations for video conferencing
Portable power banks
Complimentary laundry services
Daily professional networking happy hour
Supervised activities and educational experiences for children
Safe and quiet learning space for kids and teens studying remotely
Promotion rates apply to stays of 14 nights or more
for select room categories.
Book between August 11 and October 31, 2020
And
Travel between September 1, 2020, and February 10, 2021
WHY JUST WORK FROM HOME WHEN YOU CAN WORK FROM PARADISE?
Upgrade Your Office to 1 of these 3 Royalton Luxury Resorts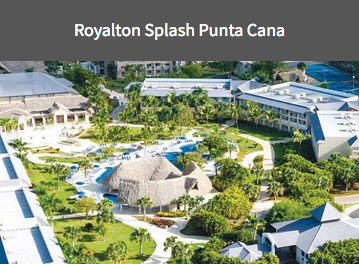 ASK US FOR RESORT DETAILS, AVAILABLE DATES AND RATES
BOOK NOW TO GET YOUR PREFERRED DATES AND LOCK IN YOUR NEW WORK/STUDY LOCATION
Canadian Travelers!
Enjoy affordable stay + flight + transfers + taxes CDN$ packages on 3 November departures with Sunwing
14 Nights at Royalton Negril Resort and Spa, Jamaica
Departing from Toronto on November 7, 2020
$2,375 CDN per person (including taxes, round-trip flights and hotel transfers)
in a Luxury Junior Suite Oceanview.
21 Nights at Royalton Riviera Cancun Resort and Spa, Mexico
Departing from Toronto on November 6, 2020
$2795 CDN per person
in a Luxury Office Junior Suite.
28 Nights at Royalton Splash Punta Cana Resort and Spa, Dominican Republic
Departing from Toronto on November 6, 2020
$2295 CDN per person
in a Luxury Office Room.
Sunwing and Safe with Sunwing
Sunwing has more flights and convenient direct service from over 33 airports across Canada to more than 45 popular sun destinations across the U.S.A., Caribbean, Mexico and Central America. This scale enables Sunwing to offer customers exclusive deals at top-rated resorts in the most popular vacation destinations as well as cruise packages and seasonal domestic flight service. Sunwing customers benefit from the assistance of the company's own knowledgeable destination representatives, who greet them upon arrival and support them throughout their vacation journey. The company supports the communities where it operates through the Sunwing Foundation, a charitable initiative focused on the support and development of youth and humanitarian aid.
From the moment they check-in at the airport, to their airport transfers, throughout their workcation and their journey home, the health and safety of customers and employees is Sunwing's number one priority throughout the entire vacation experience.
Royalton Luxury Resorts has also implemented new Safety-Assured Vacations protocols that include a 360˚ Clean Approach, physical distancing measures, advanced dining safety and more.
Ask us about Royalton's Safety-Assured Vacations program and booking policies.
Terms and Conditions Include
***Different terms and conditions apply to Sunwing stay + flights + transfers + taxes package departures for Canadian travelers; ask us for complete details
Royalton-only promotion is valid for new reservations only at Royalton Splash Punta Cana, Royalton Riviera Cancun and Royalton Negril. Rate is per person based on double occupancy for stays of 14 nights or more and only applicable to select room categories. Booking window: August 11 until October 31, 2020. Travel window: September 1, 2020, until February 10, 2021. Offer not applicable to group bookings.
You will visit the following places:

Punta Cana

Punta Cana is part of the newly created Punta Cana-Bávaro-Veron-Macao municipal district in La Altagracia, the easternmost province of the Dominican Republic. The area is best known for its beaches and balnearios, which face both the Caribbean and Atlantic, and it has been a popular tourist destination since the 1970s. The Punta Cana area has an estimated population of 100,000 with a growth rate of 6%. To the north, it borders the village and beach of Cabeza de Toro, and then the Bávaro and El Cortecito beaches. The nearest city, the 500-year-old capital of the Province Higüey, is 45 kilometres (28 mi) away, and it takes about an hour to drive there. Europeans, particularly Spanish hotel chains, own all but two of the 50+ megaresorts of the Punta Cana tourism destination.

Negril

Negril is a small but widely dispersed beach resort town located across parts of two Jamaican parishes of Westmoreland and Hanover. It is famous for its 7 miles of cool, white sand beaches and another 7 miles of 40' cliffs. One of the most beautiful towns in Jamaica, it has a more laid back atmosphere than that of Montego Bay and is more touristy than Ocho Rios. When you stay at a hotel on the beach you are literally on the beach when you walk out of the beachside of your hotel. You have probably never seen water this clear or warm. You will be amazed at how far out you can walk in the water before it gets up to your neck. The water is gentler and the sand is whiter(smaller grained aka softer) the farther down(away from town) you are. The end of the beach down by the all-inclusives is the whitest.